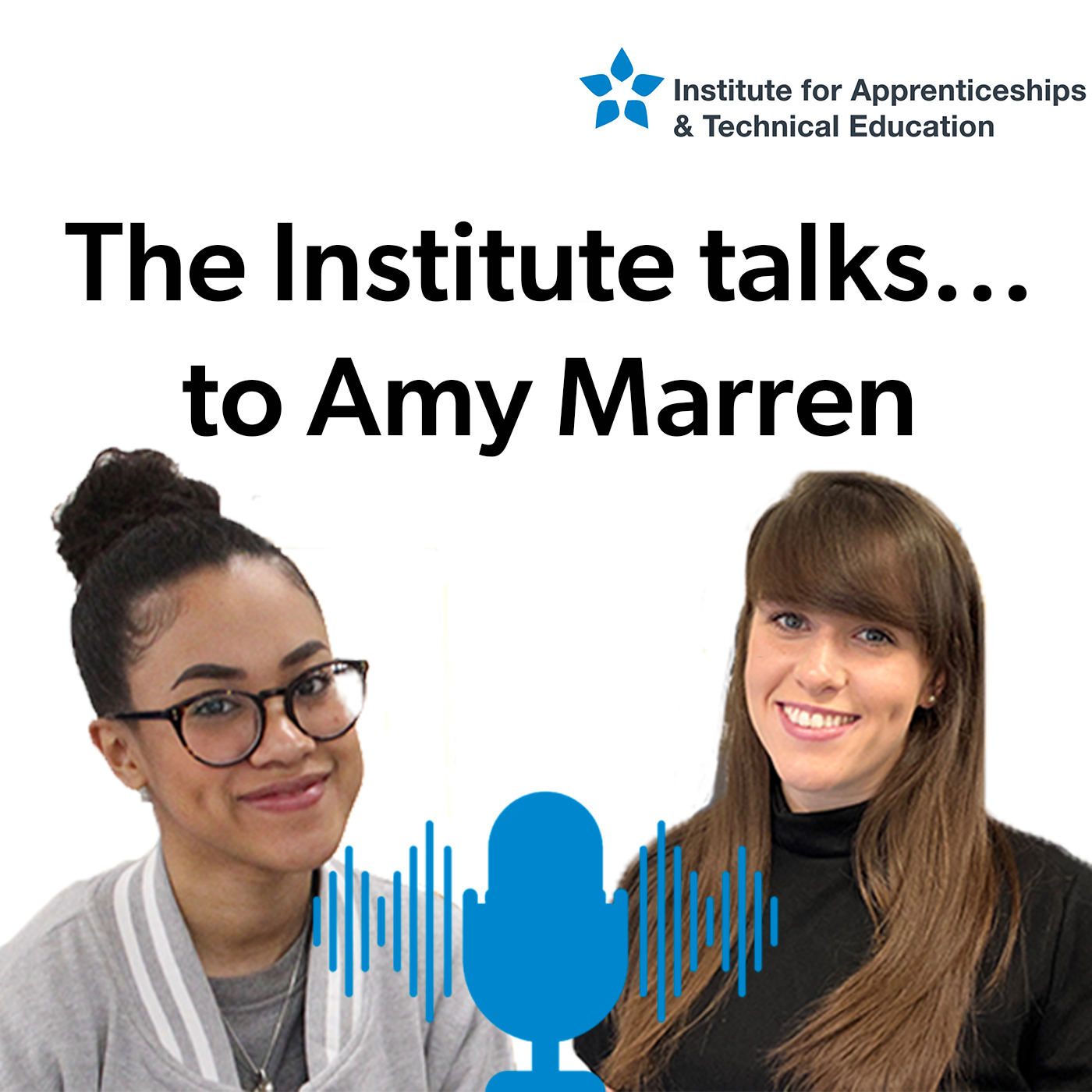 Part of our apprentice panel podcasts, Jamilah Simpson our apprentice panel host interviews new member, Amy Marren.
Amy, 22, is a level 7 solicitor apprentice at BPP. She is also a double Paralympic swimmer, competing in the last two Paralympic Games, winning a bronze medal at Rio.
Transcript
Jamilah Simpson
Hi, I'm Jamilah Simpson, the Multiverse community programmes and networks associate. I joined Multiverse early last year after completing my digital marketing qualification as an apprentice at Google. I'm also an apprentice panel member and your host for this podcast. Today we're joined by Amy. Amy, did you want to tell us a little bit about yourself before we get started?
Amy Marren
Hello, my name is Amy Marren. I am a Level 7 solicitor apprentice. I work in house at BPP as well as studying with BPP. I'm also retired, double Paralympic swimmer. Just add things to the mix a little bit. I've been in my role now well I've been at BPP now since February 2017. So well established and enjoy myself too.
Jamilah Simpson
Wow level 7. That's absolutely amazing. What drew you into an apprenticeship?
Amy Marren
So, I think my apprenticeship journey, so to speak, hasn't really been as straightforward as me just deciding one day that I wanted to do an apprenticeship. So, I finished my A levels in the June of 2016, and I went to sixth form school. So, I think with sixth form schools there's quite a big push towards going to university. So, for me I thought that was really the only options, and actually I followed the course and I started at a university in September of 2016, after coming back from Rio. Um so fair to say there's a fair bit of my plate at that point and decided that the university life really wasn't for me. Um, so I made the decision to leave and started applying for apprenticeships in the January of 2017. Wasn't 100% sure on the industry that I wanted to be in, but what really appealed to me was the whole dynamics of working and studying at the same time. I think I'm much more of a practical, hands-on person, so the experience I get of learning alongside established, people in that industry so professionals, I think is invaluable.
Jamilah Simpson
Aw, that's good. At least you had like the experience of going to university, realised that wasn't really for you. And then you went to apprenticeships and now you are really enjoying it. I'm assuming so, you found your niche.
Amy Marren
I found my niche that's a nice way to put it I like, I feel like I need that on a T shirt.
Jamilah Simpson
I can send you a T shirt with that printed on.
Amy Marren
Yeah, that be great. I'll love that parade that round the streets, go to the next panel meetings with it on. I'd love it.
Jamilah Simpson
Be amazing. So, I'm really interested to know more about your solicitors apprenticeship and like anyone listening and myself I don't fully understand what a solicitors job is so could you explain what is involved in your solicitors apprenticeship?
Amy Marren
So to give you bit of background. This is just solicitors apprenticeship and the paralegal apprenticeships were introduced just to make the industry and the whole world of law a little bit more accessible to people. I think it's quite an old fashion industry that there's just it's viewed there's just one normal route, so you do your law degree. You do your legal practice course. 2 year training contract and then you'd fall into a job hopefully at the end of it. So my apprenticeship is basically all of those levels and all of those exams, and that whole process just condensed into one big program with the intention of sitting the solicitors qualifying exam at the end, which again is another thing that's been introduced just to make the industry that little more accessible to everyone. I think it's really cool that they're doing that now. It's nice to know that you're part of this new dynamic workforce that is going to bring a bit of a change. So, like I said, combining that practical aspect with the academic aspect. My day-to-day role, I'm in house, so it might very little bit depending than if you're in private practice or in house, so I will do simple document reviews, document comparisons. I do a lot of international expansion work. I do data protection mostly day-to-day, so it really, really varies across. And I mean it will vary from like I said, drafting or reviewing documents to potentially giving advice to the business and anywhere in between. So it's a really, really wide scope that I work alongside, but I think that's the beauty of being an apprentice. Apprentice is that I'm not just isolated to that one aspect and I am learning everything I'm learning in my studying, I'm also learning within the workplace and the two are coming together quite nicely.
 Jamilah Simpson
Wow, it sounds it does sound like you're involved in a lot of things and like you said, that's great for you because you can kind of dip your toes in different areas and see which ones you like best.
Amy Marren
That's what I did, but I think being a young person will have that fear that you don't want to make the decisions too quickly and decide your life before you're ready. So it's quite nice. Like you said, just dip in and out and see. Actually, that does interest me, and actually that one doesn't interest me so much.
Jamilah Simpson
Yeah, so interesting. I love hearing about apprenticeships in industries that I didn't think would offer an apprenticeship and I didn't know that a solicitor apprenticeship, for example was a thing before speaking to you today. So thank you.
Amy Marren
I mean, I think that's so cool being part of the panel as well is that I didn't think that half of the apprenticeships exist on the panel ever existed. I only thought it was really sort the really traditional industries that you have, but it's so great to see that apprenticeships are coming so far, and I think the stigma is kind of coming away from an apprentice as well.
Jamilah Simpson
Yeah, definitely. I kind of had that stigma before I did my apprenticeship.  Are all apprenticeships are in construction or engineering, or like really hands-on fields, but the fact that you can be in an office and being apprentice I didn't know until I started mine in 2018, so it's absolutely amazing and we've come a long way definitely over the last few years.
Amy Marren
We're doing it together, team, we're doing it together.
Jamilah Simpson
Cool. Do you have any plans of what you'd like to do when you finish your apprenticeship?
Amy Marren
So I am only actually my third year at the moment, so I've still got quite a long way ahead of me. I suppose I'm quite lucky in that my apprenticeship as soon as I finish it, my view would be to be a qualified solicitor. I'm going to practice, um, I'm still too early on to decide whether or not that will be private practice in a firm, or whether I'd like to stay in house and stay at a company, but I'm really lucky that the company that I work for, BPP. They're really supportive of sort of my vision of what I want to do, so they took me on as a paralegal apprentice. And they sort of felt the waters a little bit and see if I and so if I wanted to be solicitors apprentice first of all. So I'm very well supported so I know the next direction I do go in you know I'll be looked after and I will get to that in goal, hopefully.
Jamilah Simpson
And can I just ask how long is your whole apprenticeship lasting for?
Amy Marren
So the standards solicitors apprenticeship is just six years because I did the yeah it's long. It's long so because I did my paralegal that was two years and but it also means I get an exemption year for the solicitor. So all in all both of them will be 7 years together so. It's definitely in it for the long haul, and I think I'm glad that I did that paralegal apprenticeship in hindsight, because I know that I definitely had an interest in what I'm in now, I think it would have been very, very difficult to day one and turn up and think this is life for the next six years. So it's quite nice to have that break between the two.
Jamilah Simpson
Yeah, I guess it was kind of like a trial run before you fully committed to it.
Amy Marren
Yeah, definitely, yeah. And I was really, really lucky that like I said, I've been really well supportive and I'm enjoying both. I've enjoyed my first apprenticeship. I'm enjoying my second so. It's exciting.
Jamilah Simpson
It is exciting I'm excited for you. Cool, so earlier on you mentioned that you were a Paralympian. Can you tell me a bit more like have you won any medals? What did you do?
Amy Marren
Yes, so I actually went to two Paralympic Games, so I competed in London 2012 and Rio 2016. The whole idea of being a Paralympian isn't just, you know, you perform once every four years. It's actually a four-year cycle. So in between those Paralympics we'd have British Championships, we have European Championships, World Championships, so it's a constant rolling of competitions. Um, I know without sounding too big headed, I'd like to say I was successful. So um, I was two times European champion. I was four times World Champion and I won a bronze medal in Rio. So to me that to me there big achievements. You know it's a very very personal thing. Um, lots and highs and lows in between that. But I know that. I'm retiring in February last year was definitely the right decision for me. I loved my time competing, wouldn't have taken it back for the world, really. I mean, I got to travel all over the place. I've got friends in every corner of the planet that I don't think I ever would have had if I hadn't had that opportunity to compete. So yeah. Very, very, very grateful, but also kind of relieved that that chapters done now. And I'm on this new chapter of being a young professional. So yeah, bit of a switch I keep saying to myself, I just must not like an easy life. Like why am I not just happy and content? Just sitting doing nothing. But yeah, I really enjoyed my sporting career and it's quite nice. Look backward and tell people about my achievements. I guess I think you don't often get the opportunity when you're a sports person and you know I've kind of explained about that four-year cycle. You don't often get the opportunity to sit back and appreciate what you have achieved, so it's nice to be able to talk to someone new and so actually I did this.
Jamilah Simpson
I mean everyone loves a challenge, right? And I think there's no way you are being big headed at all because there's a pretty big achievements and you should be really proud of yourself again.
Amy Marren
Yeah, I appreciate it. I feel like everyone's got their own achievements that they hold dear. So yeah, those are definitely mine. Some days it's just getting out of bed in the morning. This whole lockdown life. You know what it's like some days just getting out of bed in the morning's achievement in itself.
Jamilah Simpson
It's not easy, is it? Say you are one of our newest recruits on the apprentice panel and I'm interested what made you apply to join the panel.
Amy Marren
So there's a few different reasons I actually first came aware of the apprentice panel through LinkedIn, so I think LinkedIn is kind of like the corporate Facebook, right? So you're just scrolling through and I was going through on the train and it just caught my eye and I thought you know what? I've enjoyed my apprenticeships so much and I'm on my second apprenticeship now and I just really, really love to give my input on my experiences and just see apprenticeships go even further like it's, I think because I've got so much from my apprenticeships. It made sense for me to want to give back to more. I also have one hand, so the fact that I could give a sort the disability aspect to the panel, I think really interested me because as well as the stigma around apprenticeships, I think there's also a stigma around disabled people in the workplace. So if I could represent both sides of that and talk about something that I'm really, really passionate about it or just kind of made sense, and I've seen a few of the other apprentices that are on the panel too. I've read their bios and stuff and it's nice to know that in the background one we've all got that mission that all we want to do is just make apprenticeships better. Yeah, and they were my reasons.
Jamilah Simpson
I just hearing you talk about that now I can like really hear the passion that you have.
Amy Marren
Yeah, I think it's important like education isn't just a one size fits all approach which you know. I kind of thought it was. I thought to be successful you had to go to university and you had to get a degree never even entertain the thought of possibly getting a degree in other ways. So the fact that I've found now found that way. I kind of want to tell people about it all the time and I go to a fair and I go to fairs and all this kind of stuff and I'm like no like considering an apprenticeship. Don't just think you've got to do this, you will learn so much just by looking into it.
Jamilah Simpson
Yeah, I used to do the same when I was doing my apprenticeship. I went to lots of well whilst we could in person I went to lots of schools and assemblies and careers fairs and not even from my satisfaction of like sharing my experience. But just telling young people about apprenticeships because they don't have that support mostly in saying I agree that being that voice is just.
Amy Marren
Do you think sorry? Do you think you've seen a shift in the approach to apprenticeships over the last few years?
Jamilah Simpson
Yeah, definitely. I went back to my college a few times and when I was a student there, there was no support whatsoever for apprenticeship. It was all uni, uni, uni, but since going back the first time they now do a whole fair on apprenticeships and they invite lots of people back. It's amazing to see.
Amy Marren
It's so so nice. And I'm glad that you've had a similar experience to me. I just I honestly just want to shout about apprenticeships from the rooftops, but I think they can bring so much to the right person.
Jamilah Simpson
Yeah, definitely. And on what the topic of the apprentice panel? What do you want to achieve by being on it?
Amy Marren
So in terms of achievement, I think initially I'd like to feel nice and settled within the panel. I would definitely like to get to know the panel members better. I think the opportunity that we've been given to ask the Minister questions is actually quite special, so hopefully from that I'm looking to, well, have my question answered, which would be quite nice and also just explore a little bit more about the panel on the way it works I suppose my biggest achievement that I'd like to get to would just get apprenticeships to a place where there's not a stigma around them. Um, apprenticeships are well known. People know how to look into getting an apprenticeship, and questions can just be answered. I guess I wouldn't say it's a personal goal I'd say it's more of a collaborative team effort from the panel.
Jamilah Simpson
Yeah, I joined the apprentice panel around March last year and I haven't actually been able to meet anyone in person yet. It's all been through. Because I've lock down, but because we work quite closely together, especially now with the best practices handbook I've been able to get to know some of them quite nicely. And we've built up a connection already and I'm hoping that we can all meet sometime soon. That'll be really nice.
Amy Marren
I think so, and I think I don't know if you have the same experience, but I'm the only apprentice in my team, so sometimes I think as an apprentice because you're studying independently, and you know you go to work and you're part of a team there. You can feel quite isolated, so it's nice to be in touch with people that are either on the same program as you or are an apprentice themselves and it's definitely not an easy path to take. So I think the more people that are like you can surround yourself with the better off you'll be for it.
Jamilah Simpson
Yeah, I agree. I mean, I was in a cohort in my company with 14 other apprentices, so I was lucky to have that internal network, but it's been amazing meeting other apprentices who do different levels, different industries, different qualifications because I wouldn't have known about them if I didn't join the panel.
Amy Marren
Yeah, definitely that's really. You got me all excited now. Now I can't wait to meet people.
Jamilah Simpson
I'm sure you'll have the chance to over the next few months, definitely. And my final question to you, Amy is have you got any advice for people thinking about doing an apprenticeship?
Amy Marren
My best piece of advice for anyone that's considering an apprenticeship would be make sure you do your research on all of the available apprenticeships out there. So, like I said, for me, I wasn't 100% certain the industry I kind of had an idea, but it wasn't set in stone. I used the government website a lot and me and my mum had countless evenings where we sat down and tried to sift through. So I would say maybe find an interest first of all, and that's probably the best starting point. From that interest, maybe identify things you're good at. The things you're not so good at, and also the effort you're willing to put in. I cannot stress that it's not an easy route, that's not apprenticeships are, you know, they are very, very tough in terms of so you have to be independent with everything that you do. So those were well. I said one piece of advice, but that's probably a lot contained in one. So definitely be sure of what you'd like to do and your interest and kind of go from there. I don't think you can always rule out an apprenticeship over university is probably the biggest learning curve that I've had.
Jamilah Simpson
I love that I would have probably said the exact same thing in terms of advice because you thrive in doing what you love. Find your passion and then build it on that.
Amy Marren
And even if you don't have a passion like just try and dig deep, I'm sure there's something that would spark your interest. I knew that I was interested in law at GCSE level. Um, so I kind of went very very back to basics. In terms of that career choice, but it might be something that you know you stumble on in your free time. It might be part of a newspaper that you are more intrigued to read in that kind of stuff, so sometimes it's not always going to hit you in the face, but that passion will be there.
Jamilah Simpson
Definitely, well thank you, Amy. That's all we have time for in today's episode I want to say a huge thank you to Amy again taking her time. You're welcome for taking the time to tell us about your apprenticeship experience and being so open and honest and inspiring today. Thank you.
Amy Marren
I appreciate it. Thanks so much.
Jamilah Simpson
Thank you for listening and look out for the next episode. Bye!